The rain has kept me from getting any preliminary photos, but the Brass Knuckle is ready for racing. The biggest problem now, of course, is that I still need to take my class to get approved to race there. The rain has kept me from doing so once, and they're predicting more rain for this weekend... Let's hope for the best.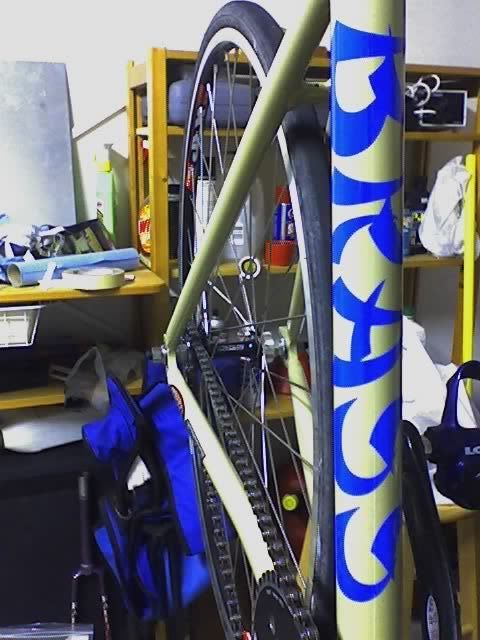 In the meantime, here are some preliminary cellphone camera shots I took in the garage. The only thing I have yet to mount are the Continental Grand Prix 4000 tires, but otherwise I'm ready to start lapping.
I had the fine folks at RBM fit me Monday night by setting the seat position, stem length & height and pedal position.
Right now here's how the bike is equipped:
2007 EAI Brass Knuckle frame & fork (Aluminum)
Chris King headset
Deda Newton 100mm stem
3TTT Pista bars
Profile Design bar wrap
Look PP 246 pedals
(I have Look Keo Carbon pedals waiting for install)
Full Speed Ahead (FSA) Carbon Pro track crankset (165mm)
FSA Chainring (48 & 49 tooth)
Dura-Ace Cog (14 & 15 tooth)
FSA 290 aluminum seat post
Sella Italia SLR saddle
Veulta XRP fixed flip-flop wheelset
KMC 1/8" BMX chain
Custom vinyl graphics